While the Eiffel Tower has made its builder famous throughout the world, the ceremony held at the foot of the Iron Lady last Wednesday, October 27 at 2:30 p.m. was intended to highlight the workers who took part in this gigantic and revolutionary project. The esplanade located under the four pillars will now bear the name of Esplanade of the workers of the Eiffel Tower.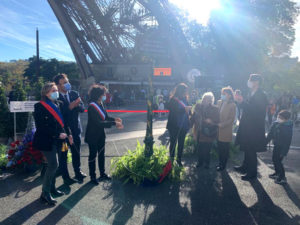 The inauguration took place in the presence of Rachida Dati, Mayor of the 7th arrondissement; Karen Taïeb, Deputy Mayor of Paris in charge of heritage, the history of Paris and relations with religions; Jean-François Martins, president of the Eiffel Tower operating company; the granddaughter of Mr. Provini, one of the Eiffel Tower workers; and our Vice-President Savin Yeatman-Eiffel, great-great-great-grandson of the great engineer.
In his speech, our vice-president voluntarily chooses to speak very little about Eiffel himself, limiting himself to evoking his concern for safety on the site and the strong ties binding him to his men, who followed him for some, site after the Maria-Pia construction site in Garabit and until the apotheosis of the Champ de Mars tower (and sometimes did so as a family, such as Baudrand, father and son; Calmels, father and son; the brothers Antoine Calzia and Jean Calzia; or the Marcels or the Vidals). On the other hand, Savin evoked at length the work of these proud workers, at a time when we still used above all the strength of our arms. On the Champ de Mars, the "fitters" rubbed shoulders, responsible for mounting the parts and equipment to the top of the site; the "journeyman carpenters", who built temporary platforms and railings as they went along so that others could work safely; and the "riveurs" – real elite units of the site – who placed 1,000,000 rivets on the tower, often at dizzying heights! Savin also underlined the capital work of the workers of the Eiffel workshops of Levallois-Perret, who prepared and pre-riveted the 18,000 parts necessary for the construction of the tower. They are also workers of the Eiffel Tower in their own right, we must not forget that!
Welcoming the presence of the descendants of Mr. Provini, Savin recalled that he had tried in the past to organize a meal between the descendants of the various participants in the tower: engineers, workers and administrative staff. His research, with the Companions organizations in particular, had not proved conclusive at the time. He hopes that this inauguration will attract the attention of other families linked to the Eiffel Tower and that they will think of contacting the ADGE in order to be able to share all together the memories kept by each other on the construction of the Tower, and passed from generation to generation.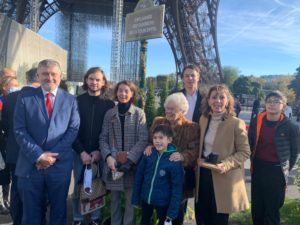 Finally, Savin Yeatman-Eiffel asked for a standing ovation for the Eiffel Tower workers: "I think we can thank all these wonderful men for their energy, their passion. Without them, the Tower would only be a beautiful project. Gustave trusted them and they paid him back. Congratulations to the workers of the Eiffel Tower, and long live the 300-meter tower! »